PRESENTATION

The presentation in our forum is mandatory.

Offenses of any kind to users are not allowed.

No requests are allowed in the chatbox.

For these you can use the appropriate request sections.


THE ACCOUNTS PRESIDENT FROM THE FORUM ARE FOR PERSONAL USE,
FORBIDDEN TO SHARE THEM ON OTHER FORUMS
PENALTY BAN IMMEDIATE.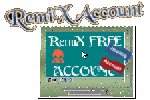 MEMBERFREE SECTION
It is allowed to withdraw a maximum of

 "2" HOST ACCOUNT - OR "1" MULTIHOST

  PER DAY,

over the allowed withdrawal there will be degradation

►►►►► from MEMBER FREE (white)  ►►►NEWSMEMBER (BLUE)




IF THE ACCOUNT IS EXPIRED, WRITE IT UNDER THE SAME TOPIC THE STAFF PROVIDES TO REPLACE IT

AND IT IS NOT RECEIVED AS A FURTHER COLLECTION.




««GO TO" VIPMEMBERS "FOR + ACCOUNT E + LASTING»»






««GO TO" SUPERVIP "FOR SPECIAL ACCOUNTS" IPTV, ANTIVIRUS "AND MORE» »





for more information contact the ADMIN BELOW





DIRECT CONTACT TRIPLETTA ►

DIRECT CONTACT -LOGIN- ►
DIRECT CONTACT REMIX ►
DIRECT CONTACT CAIO57 ►